Let's face it, not all schools are alike. You hear about good schools and bad schools and schools for gifted children. And you've probably researched a few pre-schools and daycares if you're looking for the right place for your little one. Montessori Academies are different too.
Several things set Montessori learning centres apart. And there are some important differences between regular schools and traditional programs. Learning how a Montessori education benefits your child might get you interested in enrolling your son or daughter in a child-focused environment.
Core Values of The Montessori Method
When Maria Montessori first began teaching young people it was a radical new way of approaching children's education. Her initial success led way to an entire teaching philosophy centred around respecting
Mainstream schools tend to wax and wane in their philosophies, depending on the teacher, the classroom, and the year. Montessori learning environments uphold these core values in every class, every day, with every child:
Respect for our peers, our teacher, & ourselves
Respect for our environments
Self-motivation & self-dedication
Independence and freedom (within boundaries)
Pursuit of learning & respect for knowledge
How Montessori is Different
If you enter a Montessori classroom it's easy to see that it's not a traditional learning space. Children are engaged in a variety of activities and are allowed to work independently. The communication between teacher and child may not resemble what you grew up within a public school. Here are some principles that make Montessori different.
A Child-Driven Education
Regular schools administer a curriculum that is developed in offices your child will never see. This is a top-down education system, applying a standardized learning curve to all students regardless of their actual growth or ability. This type of uniform learning, at any age or skill set, presents some obstacles for development.
Montessori operates with a child-driven education. This means that each person's learning curve is evaluated and cultivated for personal development. Because education is child-centred, it allows children to grow along different avenues. Not every child needs to have the same strengths and interests to succeed. Child-directed learning at Montessori is inherently adaptive.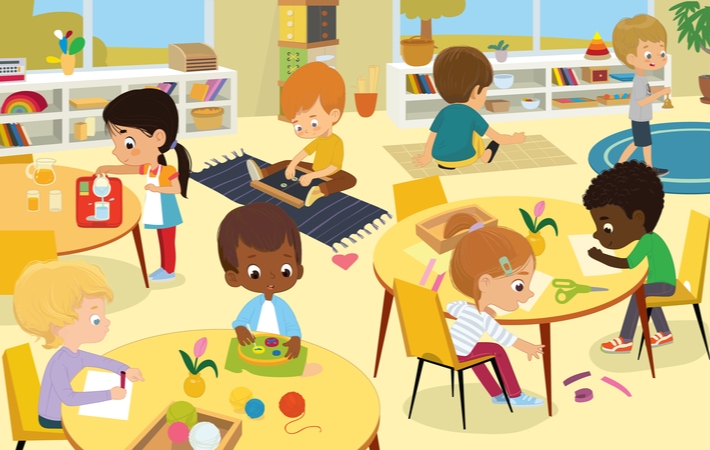 More Than Pencils and Paper
Do you remember long, boring sessions at your school desk with a notebook and a No. 2 pencil? It wasn't very fun, was it? And it probably didn't make you excited about learning new things. Montessori Academies provide an environment that inspires and engages young learners.
Cognitive activities of all types can be found in Montessori learning spaces. Children are allowed to pursue the activities they enjoy and interact with a variety of learning mediums. Getting hands-on in the classroom from an early age helps children develop fine motor skills and challenges their problem-solving abilities.
Montessori Promotes Free Thinking
Have you ever been "in the zone" studying for a test or writing a paper? It's the type of frequency that we are all looking for when we are learning or working. Traditional schools are set up to interrupt this pattern. Be it with bells, buzzers, or constant classroom changes, it's hard for students to get in the zone in regular schools.
Montessori learning centres emphasize independent thinking for young children. They are encouraged to think freely and to develop problem-solving skills without the instruction of an adult. Work cycles epitomize this philosophy, allowing children to focus on their chosen activity for 2 hours at a time, uninterrupted. Work cycles facilitate coordination, concentration, and independence.
Learners of Mixed Ages
Unlike most traditional classrooms, a vital part of The Montessori Method is a mixed-age learning space. Children interact and cooperate with peers that may be a little older or younger than themselves. Studies have shown that children in mIxed-age classrooms:
Develop stronger leadership skills
Experience less social isolation
Display less aggressive or negative behaviour
Have higher respect for individual abilities and experiences
Montessori Academies classify children into age brackets known as The Planes of Development. These planes outline the educational opportunities at each age level. So there are limits to a mixed-age environment, as children are learning with peers that have similar opportunities and advantages. Don't expect to see a 10-year-old learning with 3-year-olds.
The Mind of a Montessori Teacher
Maria Montessori believed that a teacher's role is to facilitate learning, not to push or pull a child in any learning direction. A teacher is not simply an administrator, lecturing students and merely passing along information. Montessori teachers are interactive parts of the child's environment, attuned to each child's development.
Montessori teachers are all certified by Montessori organizations. They are trained to build a culture in every learning space that honours the values of The Montessori Method. In contrast to some teachers of traditional education systems, Montessori teachers allow children to influence learning pathways. The difference may best be explained with this quote from Maria Montessori:
"It is not true that I invented what is called the Montessori Method. I have studied the child, I have taken what the child has given me and expressed it, and that is what is called the Montessori Method." – Dr. Maria Montessori
Make a Difference for Your Child
One thing is for certain — every child in a Montessori Academy experiences an education best suited for their development. The reason that so many parents love The Montessori Method is that it teaches values and skills that can be translated later in life. Our programs are based on each child's growth, not on bureaucratic blanket curriculums.
The things that separate Montessori from regular schools are the same things that can make a difference in your child's early learning. Montessori learning spaces are in many ways similar to the real world and promote lessons for successful life-long learning. Begin the enrollment process to see if Montessori is right for your child.