Montessori academies provide a different type of education for young learners, we know that. But understanding who Maria Montessori was, and understanding her educational philosophy, helps tell the story of today's Montessori programs.
Let's explore the life of Maria Montessori and become familiar with her philosophies. We can examine the foundations of learning that she believed were important. And learn how these foundations help create a learning environment that engages young children.
Who was Maria Montessori?
Maria Montessori's story begins in Italy, where she was born in the town of Chiaravalle in 1870. She was raised by a father who worked as a financial manager and a mother who was passionate about education and enlightenment. This grew roots for Montessori's relentless pursuit of knowledge and a belief in quality education for all people.
Montessori excelled as a student in her teenage years, becoming one of the few females accepted into an all-boys technical school. This was an extremely progressive event at the time, as it was very rare for women to enter technical schools or pursue careers in engineering or medicine.
A shift from engineering to medical studies occurred during Maria's search for higher education. After original pushback from the institution, Montessori was eventually accepted into the University of Rome's medical program. Here she continued to break barriers for women, becoming one of the first females to graduate as a doctor in all of Italy.
Becoming an Educator
Through her medical practice, Maria Montessori became interested in children's psychology and education. Originally working with special needs youth, her method involved observation of the different ways that young people interacted when learning. Montessori used these findings to create a learning space that kept children interested and supported their natural development.
Montessori was challenged by the local government to open a school that could employ her method of "auto-education" to teach children in a poor, inner-city neighbourhood of Rome. The results were staggering, as Montessori used a variety of activities and materials in a mixed-age learning space to help children develop learning skills early and effectively. Thus became the Montessori Method.
The Origin of Montessori Academies
Montessori schools go back to 1907 when Maria Montessori opened her first school in Rome, Italy. Known as Casa dei Bambini (Children's House), this school set the precedent as a new type of learning for young children.
The first Montessori academy in North America opened in New York state in 1911. Close behind, the first Montessori school to open in Canada was in 1912, in the town of Baddeck Nova Scotia. You can now find thousands of Montessori learning centres in over 110 countries around the world.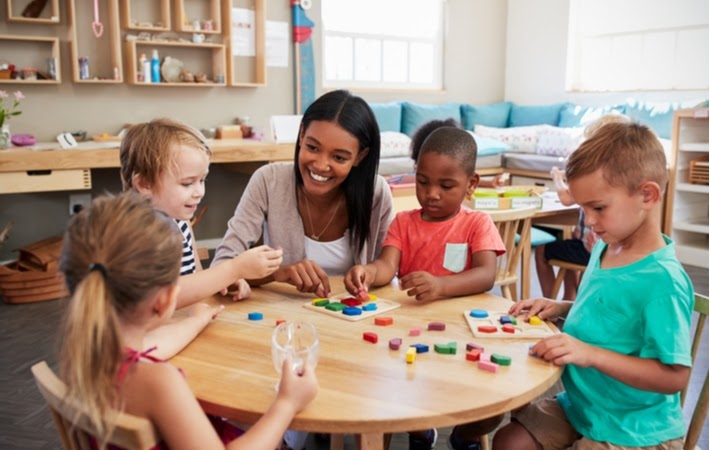 The Foundations of Montessori Education
A feminist of her time, Maria Montessori believed that all young people, girl or boy, be provided with an equal opportunity in education. Today in Canada that principle may be the norm, but Maria Montessori was a pioneer with this vision in the early 1900s. A philosophy of equal learning goes beyond women & men, with Montessori students having a variety of abilities, ages, and interests.
The overarching principle of Montessori's educational approach can be summarized with her quote that, "children acquire knowledge through experience in the environment." Maximizing a child's ability to become engaged in learning is done through these foundational pillars in education.
Variety of Learning Mediums
Through trial and error, and careful observation of interaction in the classroom, Montessori's method refined a set of activities and learning materials that appealed to a variety of children. These different sensory tools are essential in providing balance to a child's learning process.
It is also understood that different children learn, and are interested in, different things. Creating a learning space that allows young people to participate in many different tasks keeps them interested and excited about learning. As Maria Montessori lectured in 1946, "children acquire knowledge through experience in the environment."
Let Children Teach Themselves
One of the foundations of the Montessori Method is ensuring that children get the opportunity to teach themselves, without the step-by-step instruction of a teacher. Also known as auto-education, this concept stresses the idea that children can learn from their interactions with their environment, without an instructor. Natural problem-solving skills can be nurtured when a child is able and encouraged to learn on their own.
Teachers with Training
Maria Montessori put a great emphasis on teaching the teacher. A good portion of her life was dedicated to educating teachers in her values of child learning and the importance of individual learning plans.
Recognizing the needs of each student and allowing them to explore their interests is an essential requirement for a Montessori teacher. It is the teacher's role to introduce children to activities and materials that best suit their age, development, and interests. Today, Montessori teachers are certified to apply Montessori theory in the classroom and follow the guidelines that Maria developed many years ago.
Dynamic Learning Environment
Montessori believed that children benefit from a learning space that lets them flourish at their own pace and development. Unlike traditional schooling, Montessori preaches the use of uninterrupted work periods. These periods of free choice allow a child to practice independence and concentration. A dynamic variety of activities are suitable for different ages and provide different challenges to a child.
Another concept that keeps the learning area dynamic is the multi-age classroom. This encourages interaction between separate development groups and allows for natural teaching and learning between children. Because learning pace and activities are individualized, children exhibit more cooperation than competition.
The Montessori Method
Maria Montessori is heralded for her progress as an educator, feminist, and reformer. But the core of her educational philosophy is based upon her insistence that she, "did not invent the Montessori Method, I have taken what the child has given me and expressed it." This guiding principle is designed to let every child learn and lead in their own unique way.
Montessori educators do not teach a predetermined curriculum. Rather, they adapt to a child's development curve and suggest activities they believe will challenge and interest each child individually. Maria Montessori's insight into education is perhaps best explained through her quote:
"The subject of our study is humanity; our purpose is to become teachers. Now, what really makes a teacher is love for the human child; for it is love that transforms the social duty of the educator into the higher consciousness of a mission."