In recent years, there has been a growing interest in Montessori education, an alternative approach to schooling that emphasizes the development of the whole child through hands-on learning and student-led exploration.
Montessori schools can be public or private. While some Montessori schools are private, there are also Montessori programs within public school systems. The Montessori approach can be adapted to a range of educational settings.
Rather than focusing on a one-size-fits-all curriculum, Montessori education respects and nurtures each child's unique interests and talents. Children are encouraged to pursue their own areas of interest and to learn at their own pace.
Understanding Montessori Education
Montessori education is a child-centered approach to teaching and learning that emphasizes independence, self-discipline, and a love for learning. Developed in the early 20th century by Italian physician and educator Maria Montessori, this educational approach has continued to be popular among parents, educators, and researchers.
There are fundamental principles that define Montessori education.
Individualized Learning
The Montessori approach recognizes that every child has unique learning needs, interests, and abilities. Teachers provide individualized instruction that caters to each child's learning style, pace, and preferences. This approach encourages children to learn at their own pace and take ownership of their education.
Mixed-Age Classrooms:
Montessori classrooms typically include children 3 to 6 years old, 6 to 9 years old, and 9 to 12 years old. This mixed-age grouping allows children to learn from and with each other, develop social skills, and engage in meaningful collaborative activities. Older children become role models for the younger ones and help them learn new concepts and skills.
Hands-On Materials
Montessori classrooms are filled with hands-on materials encouraging children to explore, experiment, and discover. These materials promote sensory learning, foster independent thinking, and develop fine and gross motor skills. Children are encouraged to choose their own activities and work with materials that interest them.
Holistic Focus
Montessori education focuses on academic achievement as well as developing the whole child. This approach emphasizes self-discipline, self-regulation, emotional intelligence, and social responsibility. Children learn to respect themselves, others, and the environment. They also develop a sense of purpose, meaning, and joy in learning.
Private Montessori Schools
Private schools are run by independent organizations or individuals and are not affiliated with a public school district. Some key characteristics of these types of schools include:
Typically smaller class sizes, which allow for more individualized attention and a more tailored approach to learning.
Greater flexibility in curriculum implementation, as they are not bound by state or federal education requirements, allows for a more innovative and responsive approach to education.
A more specialized focus or mission, such as a faith-based orientation or a specific educational philosophy.
One potential downside is that they can be more expensive than public schools, making them inaccessible for some families.
Public Montessori Schools
Public Montessori schools are part of the public education system. These schools operate under the same funding and regulations as other public schools, but they integrate the Montessori philosophy into their teaching approach.
Public Montessori schools:
Must adhere to state and federal education requirements, which can sometimes limit the degree to which they can fully implement the Montessori philosophy.
Are adaptable, finding ways to align the Montessori method with the regulations. For example, they may use standardized tests or incorporate a traditional classroom structure to some degree.
Enrolling in a public Montessori school may require research and planning by the parent or guardian. Applications may be necessary, and there may be specific requirements or qualifications that must be met.
One major benefit of public Montessori schools is that they are often more accessible to families who cannot afford private education. They allow all children to experience the Montessori approach to learning, regardless of income level.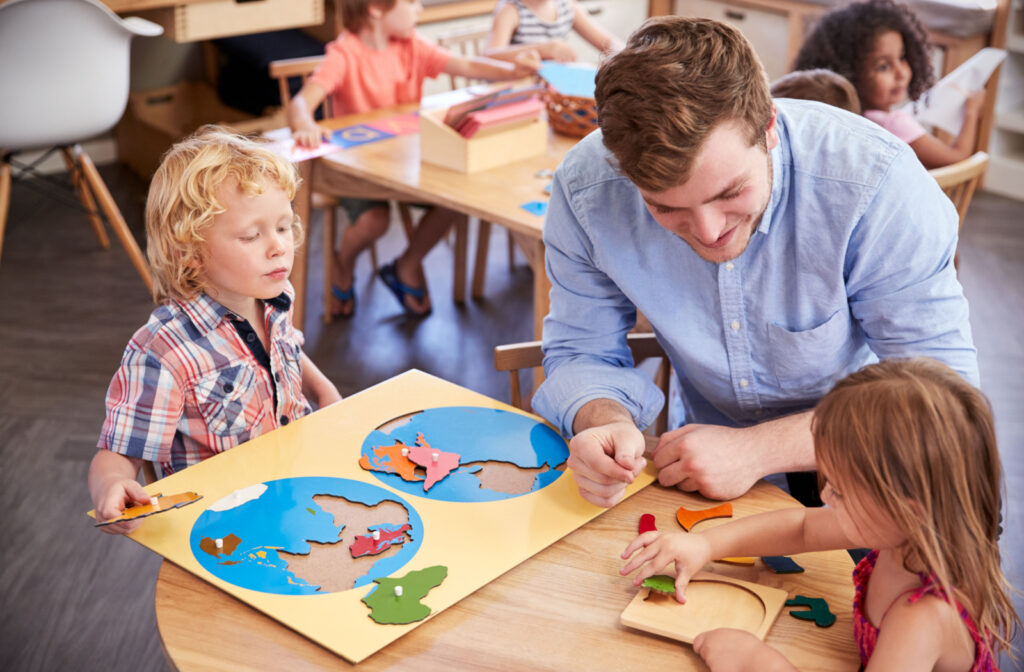 Explore Mosaic Montessori's Private School Programs Today
Choosing the right Montessori school for your child requires careful consideration of several factors, including the school's philosophy, curriculum, accreditation, and classroom environment. Keep these factors in mind as you explore your options.
Montessori schools can vary in ownership structures, with options for both private and public schools, ensuring a Montessori school caters to various educational preferences and budgets.
At Mosaic Montessori, we are committed to providing an authentic Montessori education through our private Montessori school. We offer a blended learning approach combining traditional and Montessori methods, giving your child a well-rounded educational experience.
We invite you to learn more about our Montessori programs and schedule a visit to our school. During your visit, you can see our commitment to creating a nurturing and developmentally appropriate environment for your child. Contact us today to start on the journey toward your child's educational success!