Montessori education is becoming increasingly popular among parents and educators who believe in holistic education. One of the key features of a Montessori classroom is the role of the teacher.
Unlike traditional classrooms, where teachers may focus more on delivering information and directing students, Montessori teachers place children at the center of their learning and facilitate learning by being guides, mentors, and observers.
Creating a Prepared Environment
A carefully designed Montessori classroom can be a haven for learning and growth. One of the primary responsibilities of a Montessori teacher is to create and maintain a tailored learning environment.
Teachers in a Montessori classroom thoughtfully arrange and organize various hands-on Montessori materials that cater to children based on their age, different developmental stages, and subjects of interest. Montessori teachers also help keep learning environments clean and calming and curate materials that are safe and engaging.
Within the classroom, Montessori materials are meticulously organized and accessible to children, encouraging and allowing them to have the freedom to explore, work, and learn independently. A Montessori teacher's role in this context is to observe children as they learn and then adapt the learning environment accordingly.
Montessori teachers serve as collectors and curators of materials too. If a child shows a particular interest in a subject or material, their teacher can introduce more advanced materials to challenge and engage them further. On the other hand, if a child struggles with a concept, their teacher may provide additional support and guidance, always respecting the child's pace of learning.
Fostering Independence & Responsibility
Montessori teachers help emphasize the importance of nurturing independence and responsibility from a young age. In a Montessori classroom, teachers encourage children to take ownership of their learning journey.
Montessori teachers encourage independence by teaching practical life skills, such as helping children pour their own drinks, prepare snacks, and clean up after themselves. These activities can instill a sense of competence and self-sufficiency in children, which can then translate into their academic work.
Furthermore, Montessori teachers can encourage children to make choices about their learning by offering a range of activities and lessons, allowing children to select what interests them most. This choice can foster a sense of responsibility in children for their own education.
Montessori teachers guide children in setting goals, managing their time, and tracking their progress. As a result, children can develop a strong sense of autonomy and the ability to make informed decisions.
Observing & Individualizing Education
One of the key principles of Montessori education is recognizing and respecting the uniqueness of each child. Montessori teachers are skilled observers who keenly watch and listen to their students. Instead of standing at the front of the classroom and instructing, they strive to blend into the background, observing students as they work independently.
Observation helps Montessori teachers understand each child's strengths, challenges, and interests to guide them while navigating the learning environment. A Montessori teacher only intervenes when necessary and provides guidance when students need it.
Montessori teachers recognize and respect the individual needs of each student and provide personalized instruction to help them learn at their own pace.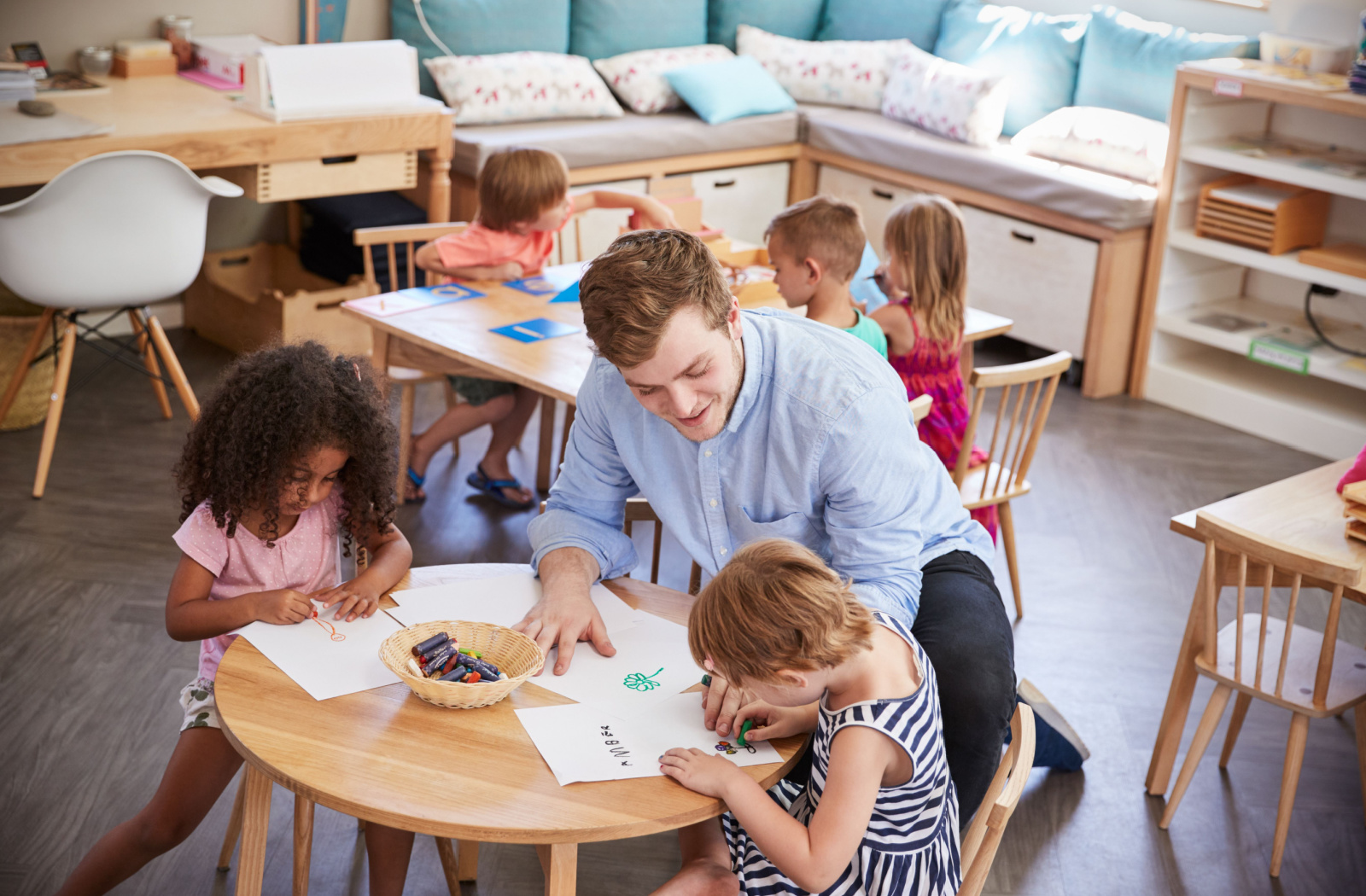 Nurturing a Love for Learning
Montessori teachers are passionate about instilling a lifelong love for learning in their students. They help foster an interest in learning by creating an environment where curiosity and exploration help children discover their potential.
Montessori classrooms emphasize the process of learning rather than the end result. They are spaces where teachers encourage children to ask questions, experiment, and make mistakes in an atmosphere where it is okay to fail because failure is an opportunity for growth.
Guiding Social & Emotional Development
In a Montessori classroom, the focus of experiences is not solely on academic achievement but on children's holistic development. Montessori teachers can play a vital role in guiding children's social and emotional growth by creating an environment where respect, empathy, and cooperation are emphasized.
Evaluating Progress
Another important role of a Montessori teacher is to evaluate a child's progress. Evaluation does not include comparison with other children. Rather, Montessori teachers compare each child's progress to their own developmental milestones.
Montessori teachers also evaluate the effectiveness of their instruction and materials and modify their learning environment as necessary to meet the changing needs of children in the classroom.
Discover the Dynamic Role of Montessori Teachers
A teacher's role in a Montessori classroom can differ from that of a traditional classroom. Montessori teachers have multifaceted roles, including observer, guide, and facilitator, that help create a nurturing and empowering learning environment.
Ultimately, a Montessori teacher is there to help children explore their potential in all areas of development. A teacher's role in a Montessori classroom is to impart knowledge by nurturing the seeds of curiosity and lifelong learning in every child.
If you are interested in exploring the Montessori philosophy and method for your child, contact Mosaic Montessori Academy to learn more or fill out an enrolment inquiry today.