What Is the Montessori Pink Tower And How Do You Use It?
The Iconic Montessori Symbol
The Montessori pink tower is a staple of the Montessori method. The sensory activity relies mainly on visual work, but it can also require some hand-eye coordination. The teaching toy is introduced in the earliest plane of development, typically when your child is 3 years old.
Whether you have the pink tower at home or it's part of their CASA program, it's an easy tool to use once you understand it.
Assembling the Pink Tower
To create a Montessori pink tower, your child will use 10 wooden cubes, ranging from 1 cm cubed to 10 cm cubed. Then, they'll place blocks on top of each other based on size, with the base as the largest and heaviest block). The grading activity enforces the concept of visual discrimination (the ability to classify objects, symbols, or shapes).
If you plan on using the pink tower at home, here's the basic how-to:
Begin by demonstrating placing the blocks, largest to smallest.
While building, you may use language describing size (large, larger, largest or small, smaller, smallest).
Invite your child to participate in the process.
After modeling the building, allow your child the chance to try the task alone. Of course, they might knock over a few blocks in the process, which is part of the fun and informative for future attempts.
If their pink tower looks too much like the Leaning Tower of Pisa or not quite a tower, don't correct them. One of the most significant aspects of the activity is understanding how to sequence and arrange the shapes.
Instead, when it's time to put the tower away, you can guide your child when returning each block (one by one) into place. The exercise reinforces how to correctly order the cubes while empowering your child to retain independence.
Why Use Wood Blocks?
Montessori toys are selected for natural materials whenever possible. For example, the pink tower uses wooden blocks instead of plastic cubes.
Wood has durability, so your child can keep building even after the blocks tumble a few times. The wood cubes also have unique texture and taste—since there's no escaping a toy taste test. Research also suggests the tactile stimulation of wood has a calming effect.
Plastic materials are less informative for their senses. Wood, metal, fabric—the unique touch, taste, temperature, smell, and look teach your child new things. For example, the different sounds of tapping a metal toy versus a wooden toy are new information. But most plastics demonstrate a similar feel, taste, and texture.
One of the biggest concerns for parents is plastic toys and BPA. Many manufacturers have limited bisphenol A (or BPA) in children's products, but there are very few restrictions about using BPA.
As Canada has worked to phase out BPA packaging for formula and other produce for infants, babies and infants have the most protection. However, even if a product is labelled BPA-free, it may contain substitute chemicals causing similar health effects.
Toys made from natural materials, like the woodblocks of the pink tower, can provide more opportunities to learn with a safer medium.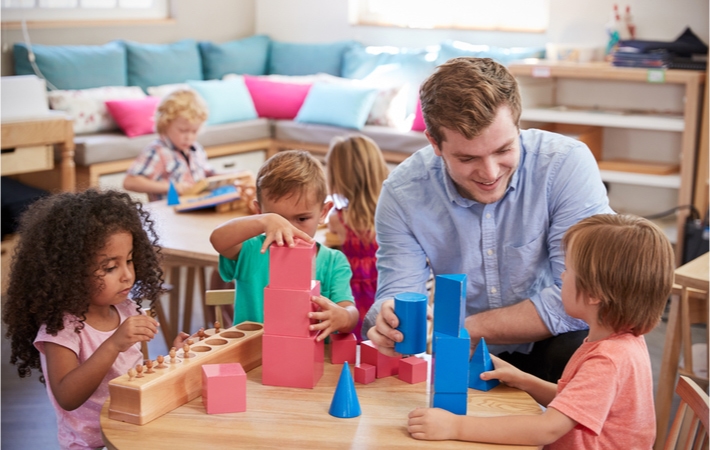 What the Pink Tower Teaches
A pink tower is a versatile tool for multiple learning topics. Mainly, its purpose is threefold: the concept of 3D, motor coordination, and sequencing skills.
Your child engages with 3-dimensional blocks, demonstrating the weight and length of different sizes. The repetition promotes the development of fine motor skills. It also shows your child the importance of sequencing (arranging actions in a specific order).
The pink tower teaches skills through differences in size and levels, like the Montessori brown stair (or broad stair). If your child has mastered building the pink tower, the brown stair is the next step in developing their motor coordination. The brown stair also encourages an interest in sequencing activities, which will later be beneficial in reading, writing, and math.
Why Pink?
When Maria Montessori observed how children interacted with learning, she considered how children embraced certain stimuli, including colour. That said, there isn't a definitive reason for pink.
Colour preferences are emotional responses without much rational basis. For example, pink is generally associated with creativity, kindness, and love. It's a calmer version of red, the most visible colour of the colour spectrum, which encourages interaction.
Your pink tower doesn't need to be pink, but it should use an attractive, solid colour. If your child can't get enough green, a green tower might earn their attention for longer.
Learn More Montessori Methods
Every toy or tool is an opportunity to engage with learning. The pink tower is one of many creative lessons for guiding your child through new concepts.
If you're interested in introducing your child to an interactive, progressive learning space, contact us to learn more about the Montessori method. Inquire about registration at the Mosaic Montessori Academy.