History of Montessori
Maria Montessori, an Italian educator, physician, and scientist, as well as the first Italian woman to receive a medical degree, was the founder of the Montessori Method. She was passionate about helping people through beginning her work at a psychiatric clinic to eventually being invited to open a childcare center in a poor inner-city district in Rome.
In 1907, she opened Casa dei Bambini, which means "Children's House" in Italian. She aimed to work with some of Italy's poorest, uneducated children who were presumed to be unable to learn.
She created unique learning strategies and materials to use, which eventually began to result in unruly children becoming focused, calm, and absorbed in the tasks they were performing. With traditional methods failing these children, Montessori created an environment that was conducive to learning for these uncommon children.
As the news of her school's success travelled, educators and dignitaries around the world became interested in her teachings. She eventually opened 3 locations in Italy, which gained enough traction for Dr. Montessori to run courses on her findings and how to implement these tactics on "unteachable" children.
Today, Montessori schools are found across the globe, attempting to make the world a more inclusive place fueled by our children – our future leaders.
What is the Montessori Method?
The Montessori Method that you see in modern Montessori schools is immediately recognizable. In essence, children are often working independently and in groups, surrounded by specially designed materials and deeply engrossed in their work.
Montessori classrooms focus on self-motivated education for all areas of their development – cognitive, emotional, social, and physical. They are self-paced and feature a community of different ages to promote independence and accountability.
A typical day in a Montessori classroom is vastly different from a traditional classroom. When you walk into a Montessori classroom mid-day, you'll find children working at various activity stations and teachers moving from group to group, rather than addressing the entire class.
Students join classes of different ages spanning over 3 years and are taught by properly credentialed Montessori instructors. Children have the freedom to choose from various specially-designed materials that promote hands-on learning and sustained attention.
Pros of an Unstructured Environment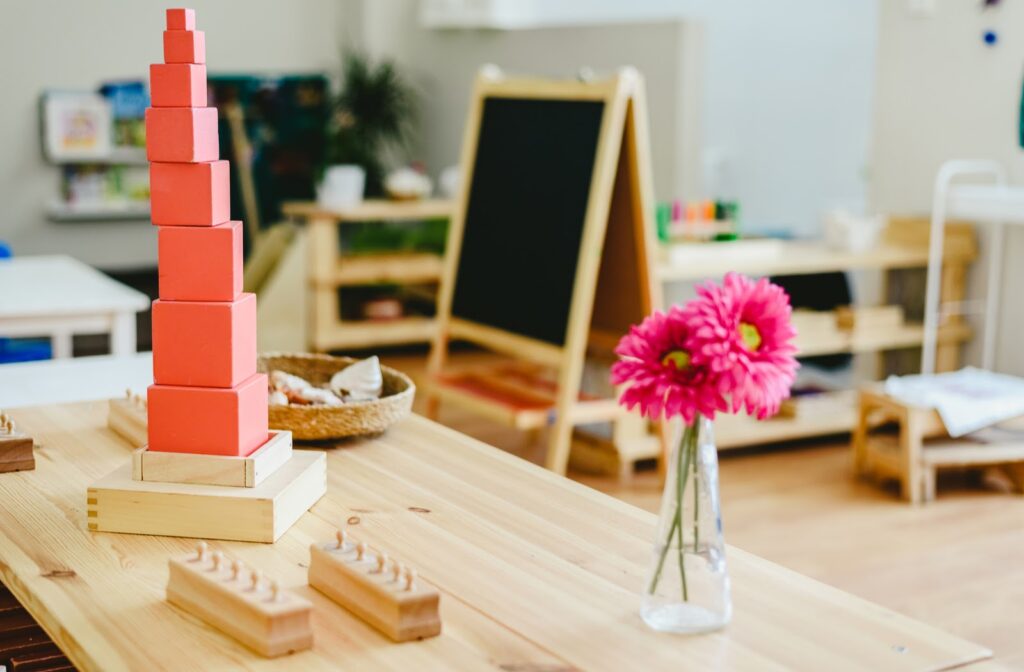 Montessori classrooms are purposely unstructured to allow children to self-motivate. Classroom design calls for lots of space and natural light to create an environment that is beautiful and accessible.
The Montessori Method emphasizes independent learning with increased social interaction. Materials used are often sensory-based, allowing children to play while they learn. There is no set curriculum, and grading systems are relaxed to enable students to learn at their own pace.
The mixed-age groups foster unprecedented growth in children that they may not otherwise experience in a classroom of uniformed age. Students are free to interact with their peers, creating the opportunity to experience acceptance and inclusion.
Self-directed learning promotes entrepreneurial thinking and allows children to gain independence that may otherwise not manifest. Students are encouraged to show confidence in their abilities and can progress faster than they would in a traditional school environment.
Adaptable to Your Child's Unique Needs
The Montessori Method was developed to assist children with special needs that were considered "unteachable." Dr. Montessori was dedicated to studying developmental disabilities and founded the Method as a way for educators to teach her findings to their students.
The first students of Casa dei Bambini were poor children with various special needs that were not responding well to traditional forms of education. As the Montessori Method developed, it allowed children with special needs to find a safe and stable environment to socialize and learn without pressures from traditional lesson plans.
With a focus on individual, self-paced work, a Montessori classroom eliminates stresses of a traditional classroom that may give the impression of students with special needs "falling behind."
How Montessori Education Can Help With Certain Disabilities
Every child learns differently and at their own pace. Children with learning difficulties and special needs have unique needs that traditional education systems may not compliment. Educational plans in a Montessori classroom are developed around students' abilities and challenged appropriately.
Free movement is encouraged in a Montessori classroom, allowing students that need a high level of physical activity to access the resources they need to stay focused. Additionally, Montessori classrooms help develop organizational, interpersonal, and time-management skills that students with executive function deficits may struggle with daily.
As Montessori classrooms are specially designed to support children with learning disabilities and special needs, students can meet peers with similar abilities and difficulties.
Additionally, as the curriculum is designed to have children work at their own pace, students that grasp certain concepts sooner can help teach concepts to their classmates, fostering leadership skills.
Mosaic Montessori Academy is dedicated to providing a safe, stimulating environment for your child and their unique needs. For more information on how we can help, contact us.