A Montessori Approach to Anxiety in Children
Managing Anxiety in Children
We've all felt overwhelmed, panicked, overstimulated, or scared. It can be a lot for an adult to deal with, even more so for a child. There's so much they're still learning, and understanding how to cope with anxiety is hard.
One of the 10 Montessori principles is independence, letting your child problem-solve. However, for parents following the Montessori method, it can be challenging when you want to jump in and tell your child everything will be okay and fix the problem yourself.
It's okay to have that instinct. But fixing the external problem often doesn't help solve what's really going on.
You can respect their independence while providing them with the methods and tools to work through their anxiety. With more knowledge and coping exercises, your child will be better prepared to face their anxiety.
What Does Anxiety in Children Look Like?
How children express their anxiety can differ from how adults typically show anxiety. Here are common signs of anxiety in children:
Restlessness
Headaches
Stomach aches
Bedwetting
Nervous habits*
Muscle tension
Social withdrawal
Appetite changes
Anger or aggression
Fatigue or irritability
Difficulty concentrating
Refusing to go to school
Avoiding activities or situations
Sleeping troubles (insomnia or nightmares)
*Nervous habits are individual, but some common repetitive actions indicating anxiety are nail-biting, sucking a finger/thumb, or twisting hair.
Some behaviours or nervous reactions can indicate temporary or situational anxiety. However, when symptoms are reoccurring, it is more likely your child has generalized anxiety.
What Is Separation Anxiety?
A common type of anxiety children experience is separation anxiety. After infants develop object permanence, knowing you or a loved one is gone can be unsettling.
Some tips for reducing separation anxiety are:
Being specific
Being consistent
Practice being apart
Creating a quick goodbye-ritual
Being specific means using language your child understands. For example, telling them you'll be back after school could be forever. Instead, give them a familiar timeframe. For example, "I'll pick you up after nap time" or "I'll be home after 2 more sleeps."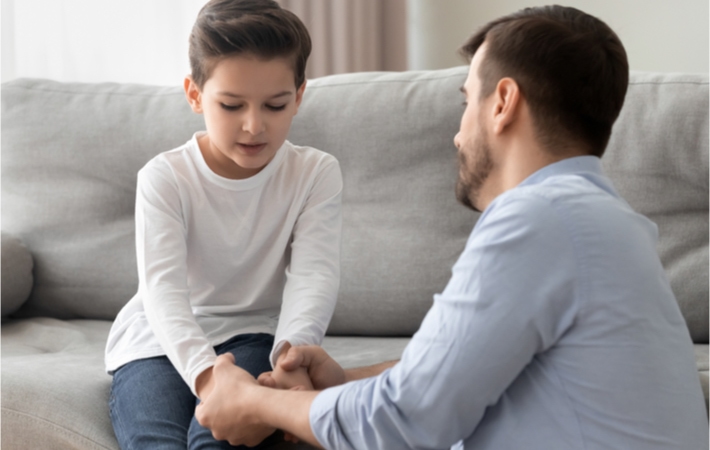 How to Guide An Anxious Child
Routine and organization lowers stress levels and improve focus. Even creating a simple order, like a bedtime routine, can show your child a method of taking control of their life. Likewise, Planning the tasks you (or your child) want to accomplish gives your child goals to keep them grounded.
It can also be handy to have lunches, backpacks, or outfits already arranged. Remember to be patient when kids are helping prepare and pack. Try to note if some tasks take longer, so you give them more wiggle room for next time. Avoid rushing your child, as it can feel stressful!
However, even the best-laid plans sometimes change.
If you need to change a routine, introduce something new, or something unexpected happens, take a moment to explain what is happening and what you think will happen next. By including your child in the conversation, you're making it easier to understand the change.
While most Montessori methods focus on empowering your child, managing anxiety means respecting their feelings without empowering their fears.
Avoid leading questions, which may increase worry. For example, don't ask, "Are you worried?" or "Are you anxious about going to school?"
Instead, ask open-ended questions giving them room to decide how to feel. For example, "how do you feel about going to school tomorrow?"
Breathing Exercises
When anxiety causes panic, your child may breathe in more than they breathe out, leading to hyperventilation. It's a natural reaction meant to help us get more oxygen when we need to overcome a dangerous situation physically. But, unfortunately, it's less helpful when it's a mental situation.
Breathing exercises reduce anxiety by getting out of flight, fight, or freeze mode.
Blowing Bubbles
Blowing bubbles mix fun and creativity into a breathing exercise. Your child will need to focus on controlling their breath, or else the bubbles will pop too soon or won't form at all. The activity distracts from the feeling of danger and encourages gentler breathing.
Stuffed Animal
Using a stuffed animal as a focusing tool, your child lays on their back and places the stuffed animal on their stomach. Breathing in and out moves the stuffed animal up and down.
You can substitute with a pillow or something of similar softness and weight in a pinch. However, focusing on a favourite stuffed animal can make the exercise more engaging.
4-7-8 Breathing
Based on an ancient yogic technique called pranayama, Dr. Andrew Weil developed 4-7-8 breathing to relax the body and regain control over breathing. Notably, it requires the ability to count to 8, so it's not for all ages.
To use the breathing technique:
Breath through the nose to the count of 4
Hold the breath to the count of 7
Exhale forcefully to the count of 8
Repeat the breathing pattern 4 times
Supporting Independence with Montessori
We all want our children to be happy and worry-free. But life comes with worries, and sometimes overcoming challenges makes us better. Giving your child early guidance about independently working through their fears, anxieties, and concerns empowers them their whole lifelong.
The Montessori system can encourage perseverance, so the next time they take a risk or experience something unexpected, they'll learn how to prepare better.
If you're interested in the Montessori method for your child, contact us about registration at the Mosaic Montessori Academy.